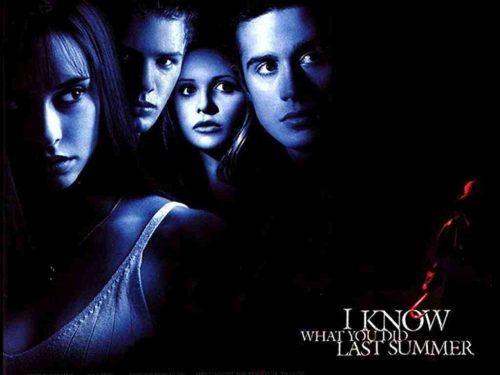 Being that it is the 4th of July, I thought I would talk about the 1997 film, I Know What You Did Last Summer, which is a good film to watch on this day,but also it is one of my personally favorites. It is also one of the first horror films that got me loving the horror genre, and becoming a fan I am today next to John Carpenter's Halloween and Wes Craven's Scream.
Basically, the plot surrounds four friends celebrating the fourth of July one night and later on accidently killing a man on the road. The four friends decide to throw the body in the ocean, and hope that body drifts away. But one year later on July 4th, the friends start getting harassed and stalked about someone in a fishermen's outfit with a hook in one hand. Does this person know what they did or could it just be a complete stranger just wanting to have a little fun on the 4th of July!!
I Know What You Did Last Summer has always been a favorite of mine ever since I rented the movie on VHS when it came out at my local video store/market where they used to have a small video section where you could rent from. Sadly, that market is no more today. But I always have the memories getting to rent this movie, and checking out the latest "Teen Bop" magazine with the "Spice Girls" on the cover. Back to the movie though, when I first watched this film I remember loving the movie so much and just having fun with it. It was one of the first horror films that really got me into becoming the horror fan I am today. I love that Kevin Williamson wrote the screenplay because he also has been involved with writing a lot of 90's horror films like most of the Scream films, Teaching Mrs. Tingle, and Halloween H20. Williamson is the perfect man to write a slasher film because he knows how to create great character that you like and hate, fun and intense kills, and the guy just knows how to make an audience have fun because he is a horror fan too which shows in the films he has been involved with it. This film also has great music in it, and a great trailer to watch. But another great thing I love about the film is the cast overall because you have two 90's sweethearts (Jennifer Love Hewitt, and Sarah Michelle Gellar) in the film along with Freddy Prince Jr., and Ryan Phillippe.
I thought the cast was great because you had a mix of personalities in the group of friends. You had a kind good girl, the blonde pageant queen, the good guy that you like, and the jerk in the film that you like,but shouldn't like. Also, I love that Sarah Michelle Gellar went out to make a cameo in the great sequel, Scream 2, which Williamson wrote as well. Last but not least, I love the killers outfit because like the ghost face killer in Scream and Michael Myers in Halloween. It's a very simple and kinda creepy outfit. For me, I think now this film doesn't get much appreciation today and I find it a bit underrated. But I will always love it, and it's one of the best 90's slasher films. It's fun a time to watch on 4th of July, and it's one to see and have a good drink with it. "Happy 4th of July Julie!"
–Justin Rhine